The system of single-frame window with the wooden-aluminium construction is an innovative window construction based on the concept of two independent frames - the wooden one and the aluminium one - between which, an energy-saving insulating glass unit is placed.
The inner aluminium frame is the guarantee of real durability. The outer wooden frame ensures natural heat and friendly aesthetics.
Thus, the system proposed by us has all the positive features of wooden windows, ensuring at the same time many years of durability without the necessity of renovation, owing to the external aluminium frame.
Linear system
Linear system
The GEMINI Linear system is characterised by the fact that the window sash surface is flush-mounted with the frame surface. The system is intended mainly for windows mounted in facade constructions or winter gardens.
Technical data for standard windows:
pine wood, meranti wood, oakwood and other, glued in three layers,
frame dimensions: 80/68 mm, window sash dimensions: 80/68 mm,
low-emission insulating glass units with the heat transfer coefficient amounting to U=1.1 W/m2K,
system seals mounted in the window sash, window frame and cladding, made on the basis of ecological raw materials
multipoint lock fittings from the German company named Winkhaus or SIEGENIA with anti-burglary protection and micro-ventilation,
painting with ecological acrylic varnishes of the Scandinavian company GORI.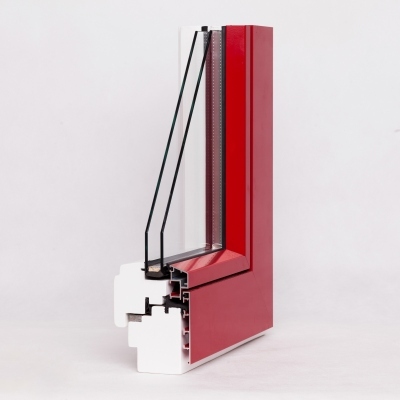 For download - cross-section PDF